Top Albums of 2007
Mood:
lyrical
Topic: music
It was a very good year for music. A lot of great new titles, some bounce-back recordings and others who just cant stop the (good) music from coming! Note: I have excluded the 2007 US release versions of Albert Hammond Jr's "Yours to Keep" as well as Sloan's "Never Hear the End of It" from this list. These titles received 2006 international releases and, honestly, that year's best-of list needs those titles more than this year.
Here then is my list of favorites for 2007...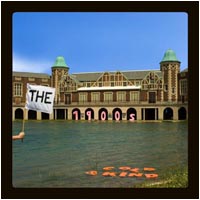 albums of the year:
Of

Montreal

– Hissing Fauna, Are You the Destroyer?

The Besnard Lakes – The Besnard Lakes Are The Dark Horse

Spoon – Ga Ga Ga Ga Ga

Dinosaur Jr

. – Beyond

Caribou –

Andorra

1990's – Cookies

Apples in Stereo – New Magnetic Wonder

Lucinda Williams

– West
Honorable mention:
Richard Swift – Dressed Up for the Letdown,
Black Moth Super Rainbow – Dandelion Gum,
New Pornographers
– Challengers,
Detroit Cobras – Tied & True,
White Stripes – Icky Thump,
Ryan Adams
– Easy Tiger,
Arcade Fire – Neon Bible, Shout Out Louds - Our Ill Wills
,
Jens Lekman – Night Falls Over Kortedada,
Tupelo
Honeys – Salute You
Top 3 EP's:
Black Kids - Wizard of Ahhhs

Ladyhawk - Fight for Anarchy

M. Ward - To Go Home
Best Re-issue:
Robyn Hitchcock - Black Snake Diamond Role
Best Box-set:
Robyn Hitchcok - I Want to go Backwards
Best Comedy recording:
Patton Oswalt - Lollipops and Werewolves
Best Spanish-language recording:
Los Straitjackets – Rock en Espanol Volume One
Best download-only album:
Radiohead – In Rainbows
Best Instrumental recording:
Antibalas – Security
Hope one or more of these finds its way to your listening device in 2008.
John
Posted by hammy154 at 1:32 PM PST
Updated: Fri, Dec 7 2007 5:16 PM PST